Looking for Forest Acres South Carolina Roof replacement?
We are your local expert for Forest Acres South Carolina Roof replacement!
When you need roofing services you can trust, be sure to turn to Resilient Roofing & Repair. With nearly a decade of experience under our belts, we know how to handle every type of roofing on the market. Not only that, but our team is available around-the-clock to help with all your Forest Acres South Carolina Roof replacement needs, especially emergency repairs after a storm or any catastrophic event. Our team of wind and hail experts are always ready to help!
Why else should you trust your commercial or residential roofing project to Resilient Roofing & Repair?
Available 24 hours a day, 7 days a week for roofing emergencies.
Up to 50-year inclusive manufacturer-backed warranties
Free inspections and estimates
Whether your roof was damaged by lightning, severe winds, or even just natural wear and tear over time, Resilient Roofing & Repair is here to help. Leave your roofing concerns to us and we'll make sure it gets done the right way.
Check out our list of roofing services:
Call Resilient Roofing & Repair today and see why we're the #1 choice for roofing and roof repairs in Richland and Lexington Counties. Call us today at 803-201-1759 or use our convenient online request form.
Whether you need an isolated roof repair, have a pesky leak, or need a complete roof replacement, you can rely on the experts at Resilient Roofing & Repair for affordable roofing options to meet your needs.
We have been your trusted local roofer for nearly a decade and have earned a reputation of great customer service and honest, fair, affordable pricing.
We specialize in all residential roofs, including:
Flat to high-sloped roofs
Shingle roofs
Custom roofs
Green and/or synthetic roofs
We can handle all residential roofing needs for: Single-family homes, multi-unit communities, Condos and townhomes, multi-level homes and buildings, Apartment complexes.
Do you own commercial property that needs roof repairs? From supermarkets to schools, Resilient Roofing & Repairs offers a variety of commercial roofing services to meet your needs and has the experience to deliver the best quality roofing job, at the best possible price, in the shortest amount of time.
You can count on the professionals at Resilient Roofing & Repairs for quality commercial roofing services including commercial roof replacement and inspection services. We provide your business with the highest-quality roof materials, workmanship, and customer service in the area.
Our commercial roofing services are driven by the latest technology and utilize the most advanced roof management practices available today.
Whether you need commercial roofing inspection and diagnosis, maintenance, repair, or replacement, you can feel confident knowing you're working with a company that is knowledgeable about (and uses) the latest technologies.
We offer installation, repair, and maintenance services for:
Roof Leak Detection
Emergency Roof Repair
Roof Care & Maintenance
Gutter Cleaning
Ventilation Work
TPO Roofing
PVC Roofing
Tar and Gravel Roofing
EDPM Roofing
Modified Bitumen Roofing
Fabricated Reinforced Ply System Roofing
Whether you need repair, installation, maintenance, or a complete build for a new construction project, contact Resilient Roofing & Repair for you Forest Acres South Carolina Roof replacement needs.
We can help with Forest Acres South Carolina Roof replacement!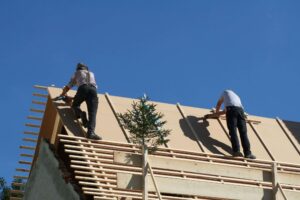 Having a roof repaired is never something you look forward to. Even though a quality roof is made from highly durable materials, it also takes a lot of punishment from the element – sun, wind, rain, sleet, and hail. If you found parts of tiles or shingles on your front lawn, or if you woke up to a leak dripping through the bedroom ceiling, Resilient Roofing & Repairs will take care of it quickly, professionally, and at a fair and affordable price.
With years of experience in diagnosing and repairing roof leaks, we can repair both residential and commercial roofs. Our trained roofers deliver top-quality care for homes and businesses with a guarantee of first-rate workmanship and affordable prices. Regardless of your needs – be it an emergency because of a major roof leak, or you'd like to hire us to survey your home or commercial properties, we've got you covered. Our roofers are knowledgeable and experienced with every facet of roofing and repair.
Our Roof Repair Services include:
Roof Repairs
Flat Roof Repairs
Roof Maintenance
Roof Replacement
Roof Inspections
Metal Roof Repair
Tile Roof Repair
White Roofing
Residential Roofing
Asphalt Shingle Repair
Making small repairs as soon as you become aware of an issue can keep them from becoming significant or causing an emergency later. However, if a larger issue develops that requires a roof replacement, Resilient Roofing & Repair has your back.
Resilient Roofing and Repair offers professional roof replacement services at fair and affordable prices. Your roof must endure extreme weather elements and, over time, will ultimately have to be replaced. We offer several options when planning a roof replacement for your home. Resilient Roofing & Repairs uses only the highest quality roofing materials from the finest manufacturers. Most carry a Lifetime (50 years) product warranty. All are available in a variety of colors. From your initial consultation to the completion of your roofing project, you can rest assured that all your home's roofing needs are in good hands with Resilient Roofing & Repairs.
Before installing a new roof, our technicians clean the entire surface to make it completely ready for the replacement roof. Then they put a new layer of roofing materials in place. They are skilled at working efficiently and will make every effort to complete the job within the prescribed time limit. Whether you're looking for a roof repair on your home, or a complete tear-off and replacement of your shingle roof, we are here to help you.
A roof leak is never good news. Resilient Roofing & Repair specializes in detecting water leaks, pipe leaks, roof leaks and more, using state-of-the-art equipment and techniques including trace gas injection and sensing, thermography, and electronic vector mapping. Our methods have proven to be most effective in diagnosing and accurately locating any type of water leak, and even flat roof leaks can now be located with pinpoint accuracy and more quickly than with traditional methods.
We'll find the source of your leak, whether it's behind a wall, in a shower, in a leaking pipe, or under a concrete slab. And we'll fix it fast. Don't let a small leak turn into a major problem. Leak Detection services include:
Moisture Scanning Leak Detection
Visual Inspection to locate the cause of a roof leak.
Hose and Flood Testing to confirm the suspected leak location, and trace roof leaks.
If you are not convinced, listen to what some of our happy customers have said about our work!
"They priced out a simple repair and arranged to come fix a leak over the garage. They quoted me a NTE estimate and completed all the work quickly as expected. They also cleaned off all my roof and I am sure did more real work than what the estimate covered but they only charged me the original quote field."
"Resilient Roofing and Repair did an amazing job fixing our roof. They were timely, professional, and affordable. I would highly recommend this company to anyone looking for help with their roofing needs."
"Michael did great quality on some siding and flashing in different spots that needed both repair and replacing. Did a great job not only doing what was asked but improving on the original builder's work. Would use again."
Call today for Forest Acres South Carolina Roof replacement!